Notice
: Trying to get property 'display_name' of non-object in
/home/danber2/public_html/teslaownerssanantonio.com/wp-content/plugins/pmpro-member-directory/pmpro-member-directory.php
on line
154

Austin – Tesla Full Self-Driving Beta Experience + Safety Score School
Sunday 12 December 2021 @ 11:00

-

14:30

CST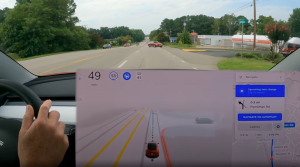 Are you ready to experience the future of autonomous transportation? The Tesla Owners Club of Austin invites you to take a ride in a Tesla equipped with the latest Full Self Driving (FSD) Beta software!
Please RSVP now for this special event:  https://www.surveymonkey.com/r/RQ7MPX3
Meet at Gateway Shopping Center Supercharger, 9607 Research Boulevard Austin
Sunday 12 December from 1100-1430
PLUS PICNIC POTLUCK: Please contribute food and/or beverages if you are able. You'll find a Whole Foods, Panera, Taco Cabana, and Ichi Umi Sushi in the shopping center. (If you arrive past 1 it may be all gone.)
Come one, come all!  Feel free to invite friends and family who may not be Tesla Owners.
For liability and safety reasons, we will not offer you the ability to test drive FSD Beta yourself, this will be a ride-along opportunity with an owner who has earned the Beta.
BONUS: If you want to unlock the FSD Beta on your vehicle, we will have a Safety Score School from 2-2:30pm where we will coach you on how to improve different metrics and achieve a higher score so you can qualify for future access.
RSVP requested so we have a good idea how many will attend:
https://www.surveymonkey.com/r/RQ7MPX3
New to FSD Beta? Watch a few videos to get an idea of what you'll experience:
https://www.youtube.com/results?search_query=FSD+Beta+10.6
for example:
https://www.youtube.com/watch?v=5qV1p1xdhPg